One of my all-time favorite songs to listen to is C-Jam Blues as played by Oscar Peterson on the album "Night Train".  Oscar was an amazing musician, probably the best jazz piano player I know of.  I drove my family a little mad by listening to it over and over, but here's the end result: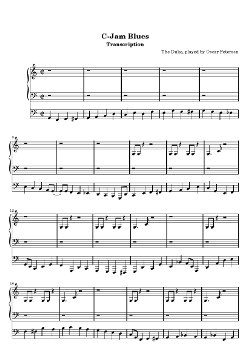 C Jam Blues – Neil Johnson Transcription
Midi File: CJam Midi File
I hope you enjoy it.  Be prepared to spend a lot of time getting the timing right with the left hand…and do yourself a favor and listen to the actual recording, don't just play what the sheet music says.  If you manage to play it and don't mind sharing, let us know!  To this day, I can't play it with both hands at the same time.