If you've ever seen the movie "The Majestic", you may recall how the main character with amnesia discovers that he has a talent of playing boogie piano.  I really liked the part of the movie where he rediscovers this skill.  I had to go out and buy the soundtrack to learn how to play it because it's some of the best boogie woogie I've ever heard.  Jim Cox is the man behind the song, apparently, so I want to give him credit where it's due.  Here's my take on the song: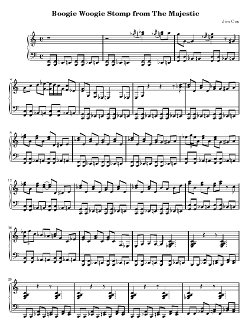 Boogie Woogie Stomp – Neil Johnson Transcription
This song is really fun to play, and it can be abbreviated by selecting sections that you feel like leaving out.  It's a typical 12-bar blues boogie woogie, so have fun with it and brag about it to your friends when you master it!
Edit (Dec. 8, 2012): I finally got around to recording this. I've split it into two halves, and the first half is posted below. If there's enough interest, I'll record the second half as well and post it here: